Miles for Meals - a Meals on Wheels benefit event!
What role to you play in your cycle class? Are you the lead vocalist? The speed demon? The class clown? Do you WOW folks with your amazing bike dancing?
Get ready to put your talents to good use as we team up to raise money for an amazing cause.
ONE Fitness Training and Hope Valley Bar and Grill are partnering for an event benefitting Meals on Wheels of Durham. This event will raise enough money provide hundreds of nutritious meals for seniors in need in our area, and we need YOUR HELP!
On July 8th, from 4-5pm, we will be offering a cycling class like you've never seen. Each bike will be occupied by a team of (2-3) motivated riders who will (playfully) compete to raise money for MOW of Durham. To be part of this spectacle, each team will:
1) Create an awesome team name and a team slogan
2) Elect a team captain
3) Combine efforts through the team captain to raise (at least) $100 for the event... the more, the better!
After finishing those steps, teams will have more opportunity to earn donations and prizes on the day of the event! Categories MAY include, but are not limited to:
1) Best dressed/Best costume
2) Most funds raised for Meals on Wheels
3) Best vocals by a team
4) Most mileage during the event
5) Best bike dance moves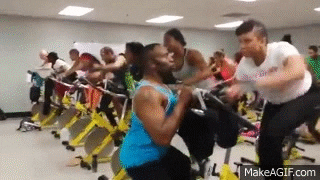 and much much more!
How do I get started?
Click this link and register your team.
[Follow the link. On the top of the page is a tab that says "become a fundraiser". Follow that link,and create your team's sub-page. You will then have a link of your own to share.]
Share the link on Facebook/email/etc for donations. $3.50 covers an entire meal for a senior in need, so no donation is too small!
We can only accommodate 18 teams, so get your name in NOW!
What if I don't have a team?
We will make one for you! Email la@onefitnesstraining.com and we'll hook you up. Also, RSVP here so we know you'll be there!
What if I don't want to ride?
You can show your support by enjoying the (hilarious) spectacle on July 8th at 4pm and joining us for drinks/dinner after at Hope Valley Bar and Grill where 10% of sales will be donated to MOW of Durham!