What's up guys? Got cabin fever? Miss your fave trainers? Fear not! We are working diligently and tirelessly to bring our awesome classes into your living room. Also, we will still have (smaller) in-studio classes as well!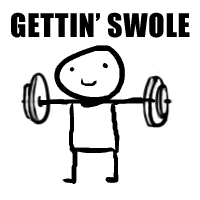 Please note: as our offerings become more sophisticated, this document will be continually edited to make sure the content is accurate and up to date. Please be patient as we update the schedule!
The Plan
Ruby, Caleb, Christina, and LA have been working hard to come up with a streaming plan that OVER-delivers in terms of content and planning. We will use proper programming techniques and a brand new training split to challenge you and build your fitness levels from the comfort of your own home, with very little equipment needed.
How To Register for Live-Streaming Classes
Beginning Friday at 7am, expect to see [Live-Streaming] classes listed on our schedule.
1) You can register just like you always have, via Mindbody or the Mindbody App
***You must be registered 15 minutes in advance to be added to the live-stream.
2) Download the Zoom app to your phone or be prepared to access zoom.us from your laptop. You don't need to pay - the free one is fine.
3) You will receive an email with a link to the Zoom meeting, and a few questions from our instructor about any injuries or limitations you may have that we need to know about during the workout.
4) You may opt, in Zoom, to enable or disable your video. Be aware - all other participants will be able to view your video if you enable it.
5) We ask that you mute your video to ensure that everyone can hear the instructor.
6) Get ready for an awesome workout!!
What if the Time for the Live-Stream Doesn't Work for You?
Don't worry, we got you covered. We will record every class we teach, and you'll be able to access it from the cloud the next day. For example, if you can't make HIIT+Chest on Monday, you can access the HIIT+Core workout from Sunday instead!
How does that work?
1) Sign up for the class labeled TBD: [Pre-Recorded, 24 hr access] for the day you'd like to receive the recording. Sign up can occur well in advance, but make sure you sign up before the 5am cutoff time on the day the recorded class is listed. Sign up is the same as any other class in Mindbody.
2) You will receive an email from Leigh Ann with the link to the class. You may access it anytime you like for 24 hours.
Who May Access These Videos?
Anyone, Everyone! It's a tough time for small businesses and we appreciate your support and willingness to spread the word about our classes. These aren't just any streaming classes. We have worked hard and put our best personal training foot forward to deliver a training protocol that will yield results and will become as personalized as we can make it.